When someone you love needs help at home, finding just the right solution can be overwhelming.
There are so many options for home care and respite care in southeast Texas. It can be helpful to start with these two questions: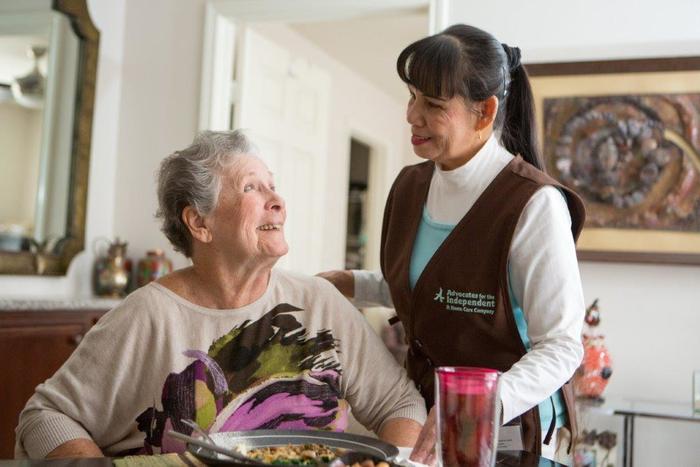 Fully licensed, award-winning, bonded, and insured, Advocates for the Independent is the top provider of southeast Texas home care services for seniors.
At Advocates for the Independent, we're here to simplify the home care process for you. We've been meeting the care needs of seniors at home since 2010. 
Our care staff are trained, experienced, and fully background checked for your peace of mind. With a wide range of in-home care services, we'll help you understand your options and meet the specific needs of your loved one.
The first step is to visit with you in the comfort of your home for a free consultation. We'll get to know the senior and develop a plan of care that outlines exactly how we can help.
Our personal care services ensure the dignity and respect each senior needs and deserves. We can help seniors with:
Additionally, we can help improve the health of older adults through:
Loneliness and isolation are a growing concern for our senior population. With the friendly companionship of our compassionate caregivers, seniors can enjoy:
We help motivate and engage older adults in fun and meaningful activities that enrich both physical and mental health, making each day the best it can be.
It feels good to have a neat and organized home, and makes for a safer living environment as well. For a senior who is struggling with maintaining the home to his or her preferred standards, we're happy to help with light housekeeping tasks such as:
A senior with Alzheimer's or another form of dementia has unique needs that require specialized care. Our dementia attendants in Houston and the surrounding areas are trained in creative, compassionate dementia care to help seniors feel safe, comfortable and to better manage challenges such as:
We understand the progression of the disease, and how to modify care accordingly to maximize quality of life.
It's such a relief to come back home after a surgical procedure or hospitalization. Our caregivers ensure a smooth and comfortable transition so seniors can rest and recover. Based on each person's particular circumstances, this can include:
We accept a variety of payment options for our non-medical in-home care services, including:
We're happy to help you ensure that any benefits for which you're entitled are accessed to help pay for the care your loved one needs.