Advocates for the Independent exclusively hires trained, compassionate and caring individuals who go into the home to assist and take care of the homebound. We care for the pre- and post-hospital stay patient, no matter the age. We also take pride in being able to lend a hand to new mothers who are without the benefit of family support nearby. We provide assistance to them during the first few weeks or months of motherhood.
We are licensed and bonded.
Whatever the situation, Advocates for the Independent has someone to take care of you or your loved ones.
Things were different years ago. Life spans were shorter and families lived closer together. As our lives move on, so do our children. They find jobs in faraway places and they have families of their own, thus making it hard to come home to take care of parents who are aging. Most people feel much more comfortable in their own home. Statistics show that people thrive and live longer the more they can do independently. That is why Advocates for the Independent will make the client and the client's guardian feel secure by designing a plan of care specifically for each client's situation.
We serve Brazoria, Chambers, Fort Bend, Galveston, Hardin, Harris, Jefferson, Montgomery, Orange, and Waller counties.
We accept cash, checks, all major credit cards, The Veteran Aid and Attendance Benefit (War Era Veterans, spouses and widows are eligible), and long-term care insurance.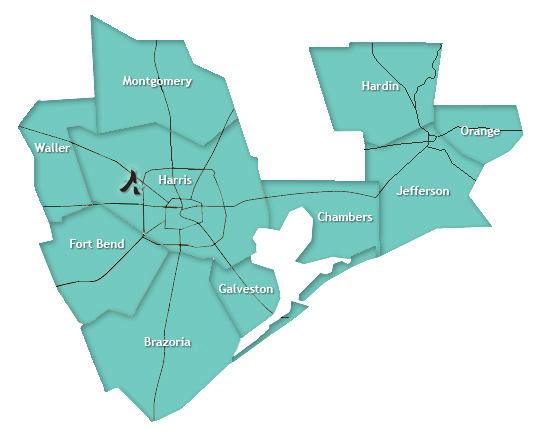 We serve Brazoria, Chambers, Fort Bend, Galveston, Hardin, Harris, Jefferson, Montgomery, Orange, and Waller counties.
DON'T JUST TAKE OUR WORD FOR IT
[The caregivers] exemplify compassion, kindness, and caring. Their care of my mother will never be forgotten.
Your service was wonderful and timely!
When my husband was in the final stages of Alzheimer's, I knew I wanted to keep him at home, but I was no longer able to care for him on my own. I needed help with everything from changing his pajamas to feeding him and brushing his teeth. I was convinced that my husband didn't want non-family strangers in the house, but I was wrong. Our Advocates for the Independent caregiver was wonderful, strong enough to help with transfers from the bed to the wheelchair or sofa. Kim was a tremendous help when we had to deal with the hospital or the insurance company. I really should have called her sooner!
Thank you so much for being there for us. Lots of years together. We truly appreciate all you did.
We worked with several agencies the past few years. This one was, by far, the best as customer service and level of care of your CNA's. [Caregiver name] provided excellent care with the utmost dignity and respect for my mother. Thank you for all you did! We appreciate everything!
WE ARE READY TO OFFER OUR SERVICES
The Faces Behind Our Success...