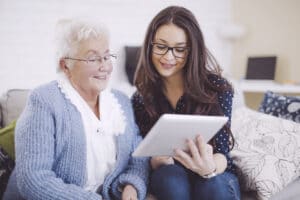 Accepting help isn't always easy. However, for many older adults in the Houston area, help at home enables them to remain independent. At Advocates for the Independent, a trusted provider of Houston in-home care, we understand how challenging it can be to ask for assistance, and we are here to make that transition as easy as possible for all involved.
Our experienced, compassionate caregivers provided an array of home care services in Houston and the surrounding area that help older adults maintain independence in the place they love most – home. Through personal care, companionship, homemaking services and more, Advocates for the Independent's care providers help our clients embrace life and live it to the fullest.
We've compiled a list of local resources that seniors and families may find helpful when researching care solutions:
Houston Area Alzheimer's Association
The Houston Area Alzheimer's Association offers support and educational resources centered on caring for a loved one Alzheimer's disease.
Harris County Area Agency on Aging
The Harris County Area Agency on Aging offers health and nutrition programs, benefits counseling, a caregiver support network, and much more.
Hardy Senior Center
The Hardy Community Center offers a friendly and comfortable environment that helps seniors stay active, engage with friends, and enrich their quality of life.
Our Houston In-Home Care Services
Each person we care for is unique and our Houston home care services start with the creation of a customized care plan that can include services such as:
Personal care for hygiene, meal assistance, running errands, etc.
Companionship to engage the senior in conversations, hobbies/interests, exercise, and more
Homemaking assistance, including dusting, vacuuming, washing dishes, laundry, organization, and more.
Transitional care from hospital to home
And much more
Why Choose Advocates for the Independent?
When it comes to finding care for a loved one, the options can be both hard to find and overwhelming. We know; we've been there. Advocates for the Independent was established in 2010 after founder, Kim Tweedel struggled to find quality care for a senior loved one. Our goal has always been to ensure Houston area families would have access to the best possible in-home care whenever they need it.
Our Houston In-Home Care Team
Finding just the right caregiver for a senior you love can be challenging. A caring heart is important, as is trust, honesty, and similar interests and personality. At Advocates for the Independent, we make finding the right caregiver easy. We take time to thoroughly interview, screen, and train our care staff. Families have the peace of mind in knowing that their loved one's caregiver is experienced, well-trained, and fully equipped to meet their needs. We also carefully match clients and caregivers based on personality type, likes/dislikes, and more to ensure a close bond right from the start.
Let's Talk
Ready to learn more about our Houston in-home care services? Our care team is happy to answer any questions you may have. Give us a call today at (713) 609-9908 and find out how we can help your family. For a full list of all of the communities where we provide care, please visit our Service Area page.