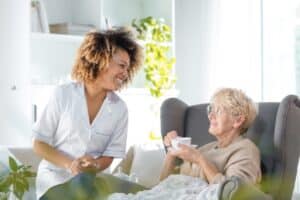 Many people need a little help at home as they age, whether it's for a few hours a day or more in-depth, live-in care. In-home care services can help older adults maintain an independent lifestyle while remaining in the comfort and familiarity of home. And knowing there is a trusted partner who can provide the care and attention you need can be a big help.
Advocates for the Independent, a dedicated provider of home care in Beaumont, TX, offers a wide range of senior care services to help adults in our area live the lives they want, at any age. We employ personable and professional caregivers with expertise in all aspects of aging, including friendly companionship, personal care, homemaking services, Alzheimer's and dementia care, and much more.
The search for the right care solutions can be challenging. Our Beaumont home care team has put together a list of resources we think you'll find helpful throughout your care journey:
Lakeside Center
A state-of-the-art activity center focused on supporting seniors in the Beaumont community in leading active and engaged lives.
Beaumont, TX Area Agency on Aging
The Area Agency on Aging supports area seniors in maintaining independence at home and helping them find the resources they need in order to do so.
Beaumont Area Alzheimer's Association
The Beaumont chapter of the Alzheimer's Association provides a number of educational resources centered on caring for a loved one Alzheimer's disease.
Professional Beaumont Home Care Services
As experts in caring for seniors, we understand that every person's care needs are unique. That's why we offer a number of Beaumont home care services that can be customized to meet your needs, from a few hours a day to 24/7 care, including:
Friendly companionship, such as conversation, playing games, reading, exercise, etc.
Help with personal care needs including bathing and dressing
Nutritious meal planning and preparation
Running errands, including picking up prescriptions and groceries
Transitional care from hospital to home
Homemaking assistance, including washing dishes, dusting, laundry, vacuuming, organization, and more
Picking up prescriptions and ensuring they're taken exactly as directed
And more
What's Different About Advocates for the Independent?
Having a senior loved one in need of care is a stressful time. Additionally, finding the right partner for home care in Beaumont, TX can be challenging. At Advocates for the Independent, we know what it's like to have an older loved one in need of care at home. We've seen the effects of poorly managed care, and we strive to do everything in our power to ensure that you never have to experience that. Our team believes that communication and follow-through are extremely important to providing the highest quality care for seniors at home. We are committed to listening to your concerns and working to resolve them immediately. Our primary focus at all times is making sure that each person we care for receives superior care, enhanced safety, and an improved quality of life.
Our Caregivers
Inviting a caregiver into your home is a big step. Is it safe? Will the caregiver be kind and professional? Will we get along? As providers of trusted home care in Beaumont, TX, Advocates for the Independent is committed to hiring only top tier caregivers who meet our high standards. We meticulously interview, screen, and train our care staff to ensure everyone on our team is dedicated to providing the standard of care our clients expect. We also carefully match clients and caregivers based on personality type, likes, dislikes, and more to ensure clients and caregivers feel connected from the very start.
Contact Our Beaumont Senior Care Team
Are you searching for home care in Beaumont? Advocates for the Independent's team is happy to help you find the care and resources you need. Contact us today at (713) 609-9908 or online and find out how we can help your family. Visit our Service Area page to see a full list of the communities where we provide care.